EC COIR WATTLES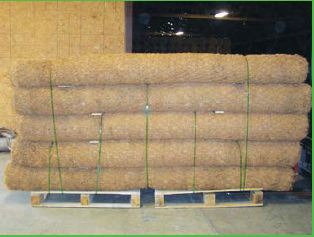 East Coast Erosion Blankets' EC Wattle is an excellent best management practice device for the minimization of accelerated erosion and the resulting sedimentation. The EC Coir Log or called Wattle is made from coir fiber and bound by coir twinethat has a high tensile strength and an installed functional longevity of twoyears. Coir wattles are made with 100% natural organic fiber and are free ofsynthetic netting or chemical additives. Coir wattles absorb 150-200% water by weight without experiencing physical property alterations and are ideal for water-associated stream bank, lakeshore and coastal restoration and protection projects. Coir wattles are totally biodegradable and convert into mulch that improves the organic composition of the soil. Coir wattles are flexible and are easily installed.
APPLICATIONS
EC Coir Wattles are ideal for perimeter control of sediment-laden runoff from construction projects. They can also be used on steep slopes to reduce slope length and do not need to be removed after completion of the project, as they are 100% biodegradable. Similarly, they can be used as check dams in waterways and swales and provide an excellent growing medium for plants within the channel.
The trapped sediment, along with the coir wattle provides an excellent growing medium for the establishment of riparian zone vegetation. Plant plugs can be installed directly into the coir wattle to promote quicker establishment of vegetation. Refer to the East Coast Erosion Blankets' EC Wattle installation guidelines for perimeter control, slope length reduction and check dams at www.eastcoasterosion.com.
Installation
For severely eroded or vertical banks/shoreline, grade to 2:1 and install a product from East Coast Erosion Blankets Eco Select™ Product Line or an EC Coir Mat.
Install EC Coir Wattles into the water at the toe of the slope to a depth of 6" (1/2 height of wattle).
Tie the end of the Coir Wattles with coir twine to provide a continuous linear system.
Drive a 36" wooden stake into the water next to the Coir Wattle, with 8" extending above the water level. Tie the stake to the Coir Wattle with coir twine, by weaving the twine through the netting on the Coir Wattle. Stakes should be installed every 36" (24" for high-flow streams).
5. Trench both ends of the linear Coir Wattle system perpendicular to the system, at least 3' into the bank/shoreline and cover with compacted soil.
6. Backfill on the upslope side with four inches of native soil and stabilize with desired vegetation
7. Plant plugs may also be inserted directly into the Coir Wattle.